CHALLENGE:

 Testicular cancer is the most common cancer among young men. Yet 62% of those who are most at risk don't know how to check themselves.



IDEA:​​​​​​​ ​​​​​​​

To get guys in the habit of regularly checking their balls, each time they check on their Non-Fungible Testicles, it unlocks a surprise bonus trait—like a mohawk, sunglasses, a skateboard, etc.—with 8,000 unique combinations. Each NFT was created by iconic streetwear designer, MISHKA NYC, and proceeds help support Movember's work in men's health and testicular cancer research.
HOW IT WORKS:

 Keep up the monthly routine and keep getting rewarded. But take your eye off the ball, and your Non-Fungible Testicles lose their rare and valuable traits.
SOCIAL:

From posts to polls, carousels and stories, our balls were seen daily on multiple media channels, bringing information on health and the NFT game, of course!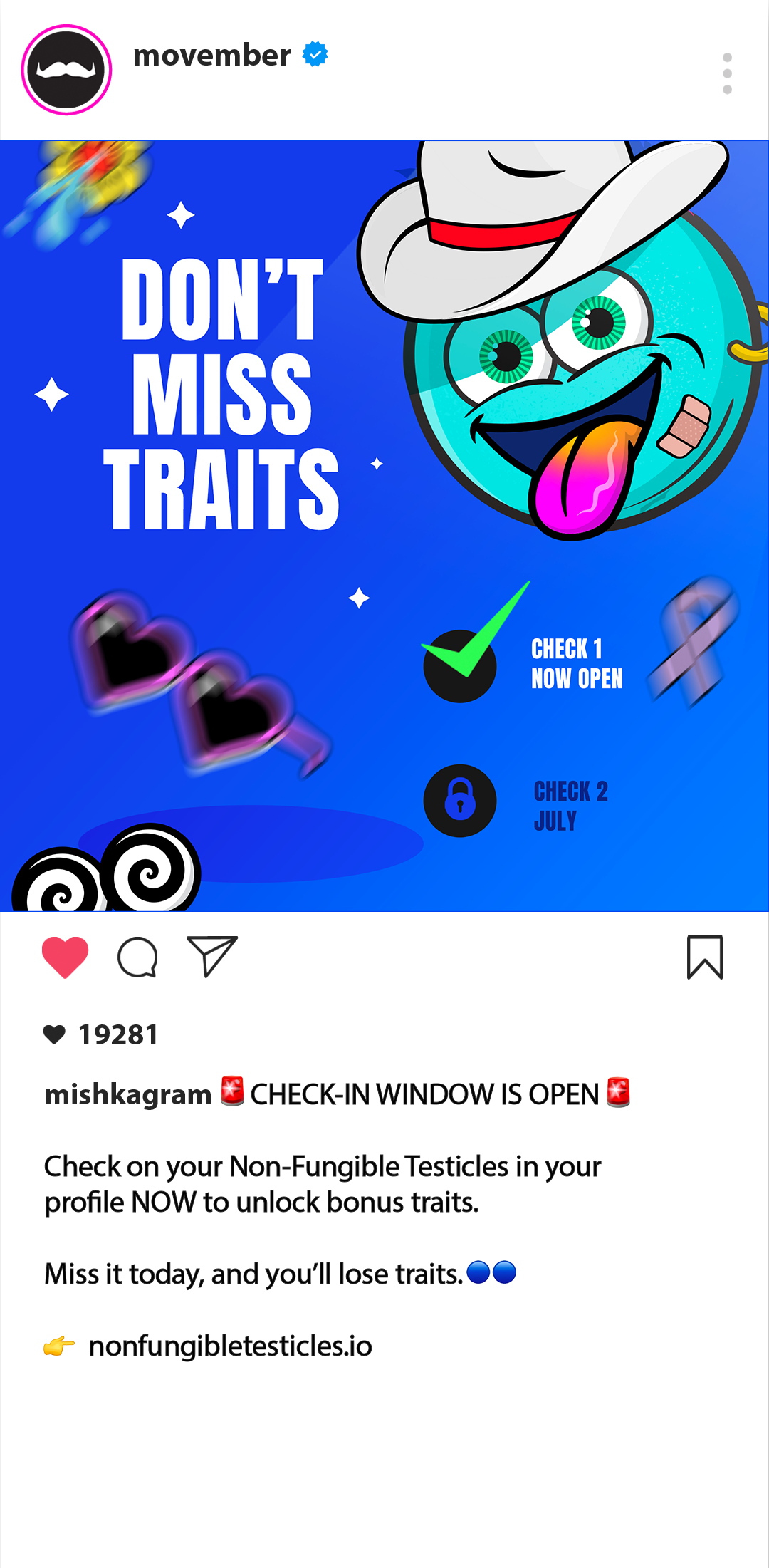 DISCORD:

 A space dedicated to our ballsy community where people can get early access to our game news, fun emoji packs, and more. Join!
SCORES:

All players get monthly reminders of their NFT balls via email and other channels. It's important for them to do regular check-ups to keep their traits and be healthy in real life.
Director of Global Innovations:

DAN COOPER

Global Innovation Manager:

TOM D'SOUZA

Innovation Coordinator: 

TOMASZ POZNIAK

PR Manager:

BRIONY FITZGERALD
President:

GREG RIVERA

Illustrator:

MIKE JONES
Global Chief Creative Officer:

RONALD NG

Chief Creative Officer:

 HARSH KAPADIA 

Executive Creative Director:

 JESSE POTACK

Group Creative Director:

 SASCHA PILTZ

Head of Design:

 RONNIE TING 

Cultural Anthropologist:

 JEFF CARVAHLO 

Senior UX Designer:

COURTNEY POZZI 

Senior Designers:

KESLEY BASSINI + SERGIO JARA

 Senior Art Director:

VIC PARIZZOTTO

Senior Copywriter: 

COLLEN BRACH

Copywriter: 

YASHASHREE SAMANT

 Associate Director Technology:

DAVID MAIETTA

Senior Developer:

VICTOR TAFRO

 VP Director of Art Production:

RACHEL MAX 

Senior Digital Producer:

CYNTHIA LIN 

Senior Producer:

SAM MILGRIM

Associate Director of Strategy:

BEN DAYTON

Group Account Director:

TINA BRAUN

Management Supervisor:

ANDREW BRYSON 

Chief Financial Officer:

NOLAN GRUMLEY
Creative Director:

JUSTIN BARNES

Executive Producer:

ROB MEYERS

Producer:

STEVEN LAMBIASE

Animators:

DOUG ESCAMILHA + TIM MCKEE
Silver Lion Health & Wellness + 3 Shortlists